With Monday being Memorial Day, and the unofficial start of the summer season, I'm sure you may be ready to take those first tentative steps of returning to a routine that feels more familiar. What are you planning? Do you have any plans yet?
While there's no denying the appeal of getting away from it all on a cruise, there's also the matter of the cruise ship itself.
The current concerns over coronavirus have many rethinking their cruise plans. But since the idea of escape and the water are so appealing to so many, it may be time to look at a smaller vessel. Make that a much smaller vessel, like a private yacht!
Now if you happen to own a private yacht, you're already in business. If you don't, then consider taking a weeklong cruise on your very own private yacht charter to destinations across the globe.
Whether it's a self-skippered monohull; a sail catamaran with a skipper at the helm; a high-performance power catamaran or a crewed yacht with a captain and chef, your time on the water will truly be unforgettable.
Travel with just six or eight other guests who may well be your actual best friends or family, since you're hiring the entire boat. The same ratio holds true for the crew, typically a captain and a chef.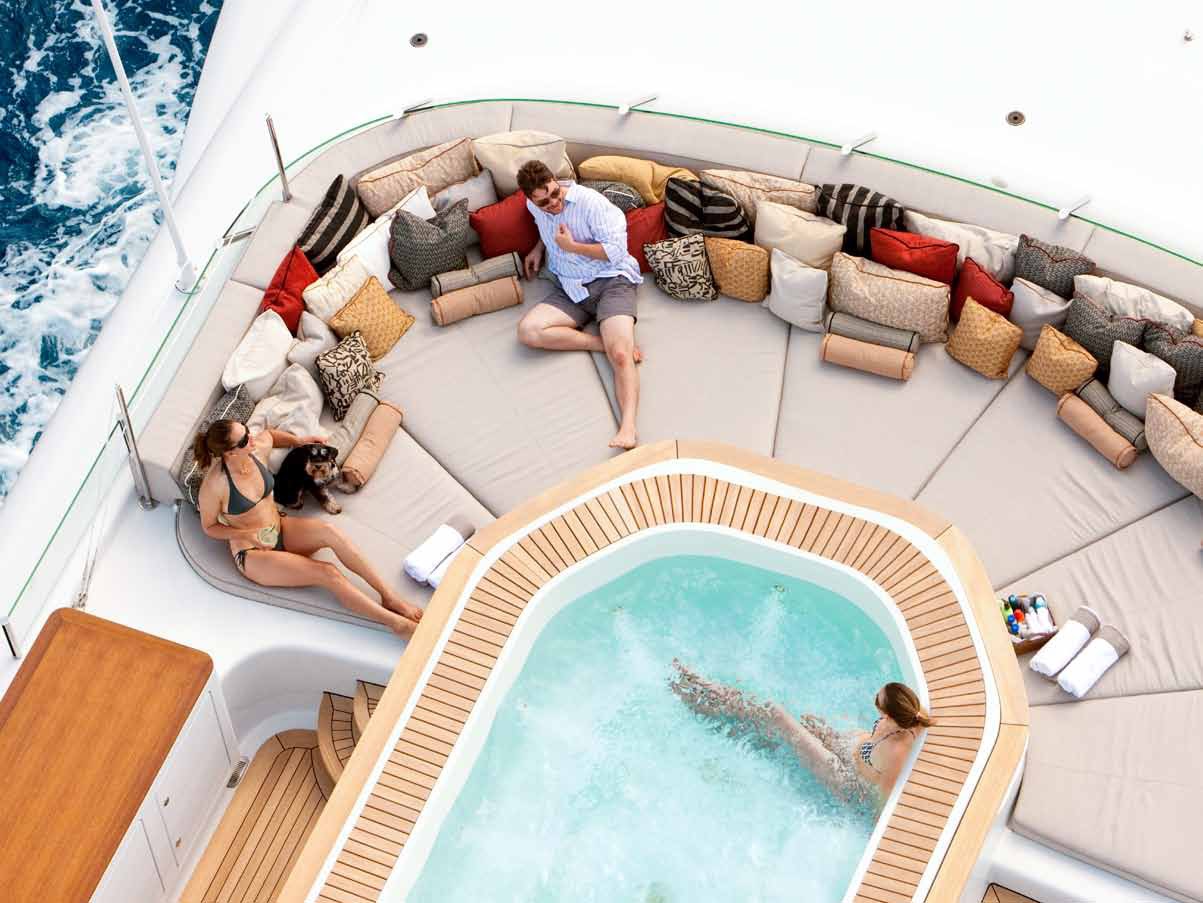 Benefits of a Crewed Charter:
Unscheduled/loosely scheduled nature of your itinerary
Personalized meal menu catering to your dietary needs
Ability to go where larger ships and their tenders cannot. Find that secluded anchorage
Privacy and intimate settings
Entertainment – days spent snorkeling, swimming, relaxing on deck
Welcome aboard!!
What's For Dinner?
Perfecting Your Grilling
From May to September, it's grilling season.
Poolside with a refreshing drink in hand and an open flame cooking the season's most vibrant produce and proteins – here are a few tips to make your grilling game even better.
1.     Take the chill off. Let your proteins come to room temperature before you grill as cool food will likely burn faster before the inside is done.
2.     Brush and oil the grates. When preheating it is vital to brush off any charred residue and oil to avoid sticking.
3.     Don't press or peek or flip! I know it's tempting, but pressing down on burgers is a no because you will lose all the precious juices. Try not to flip more than once because you'll lose caramelization.
Happy Hour – it is 5:00 pm somewhere!
Drink of the Week: "Make it Your Way" Bellini

Bellini's are a perfect summer cocktail for any occasion. The classic Bellini recipe calls for peach juice but can be supplemented for any fruit juice.
From apricot, plum, mango, or strawberry, a Bellini can be anything your heart desires, as long as it is topped with champagne or Prosecco.
Need to Know
With news about the world slowly starting to come out of hibernation, it can be hard to keep track of who and where are set to reopen when.
Slowly but surely, we will be able to travel again. As different states across the U.S. have just reopened this past week, many other countries and destinations are set to reopen sporadically throughout the remainder of this month and during the summer.
Always remember to keep in the know about the latest facts on COVID-19:
Amid the uncertainty, this is our constant: we're going to keep talking about travel because this too shall pass. The fact is that the travel and tourism industry supports 
one in ten jobs worldwide
, generating 10.4 percent of the global GDP. And the power of travel to support local communities and to unite and forge connections across borders and cultures continues to inspire us even in unsettling times.
Virtuoso Life Magazine
To continue reading more about travel for you and your loved ones, enjoy a complimentary special edition of our on-line version of May/June Virtuoso Life Magazine . You will find their top 50 reasons why we all should keep exploring. 
Read Virtuoso's Magazine here
.
While Memorial Day Weekend is the "official" beginning of summer, it is a somber day of remembrance to honor the ultimate sacrifice that so many of our brothers and sisters in arms have made for this exceptional nation. It is a day to remember that this country was founded and kept secure by the blood of patriots – men and women who have heeded the call to stand the ramparts and defend all that we hold dear: life, liberty and the pursuit of happiness.
Let's not forget our brothers and sisters in arms that gave all for our nation.
Never forget: all gave some…some gave all. Thank you for your ultimate sacrifice.