As we approach another Friday and the end to another work week, it is nice to reflect on how things went. What was a highlight of this week? It was a very busy week here in the Travel by Design office! I attended our GTN Travel Network Conference – virtually, of course! Our conference would have been held in beautiful Cabo San Lucas, Mexico. Alas, as with many events this year, we met virtually. Our colleagues across the US and travel partners from around the world were in attendance. A great week to be sure!
I had the opportunity to meet with over 30 of our preferred partners and suppliers, including resort properties and representatives, airlines, luxury ocean cruise lines such as Seabourn Cruise Line, Regent Seven Seas Cruise Line as well as Celebrity and the much anticipated Virgin Voyages. On the rivers always great to hear from AmaWaterways as well as American Steamboat Company, who sails the U.S. rivers; Lindblad Expeditions as well as the newest line to enter the Expedition Cruise market, Atlas Ocean Cruise Line were on hand to discuss this fascinating emerging segment in the cruise industry. Representatives from Costa Rica, and Hawaii advised of the recent opening of these destinations. Hotel representative such as Belmond and Red Carnation and much more were also on hand. In addition, Bob Duglin, VP of Membership from ASTA, the travel industry trade association, provided the latest updates on our advocacy and the status of global tourism. We heard from the president of Virtuoso, Matthew Upchurch – always a positive and inspiring message. All in there was great insight and optimistic discussions on the state of our industry.
We all agree that travel is about understanding and connecting. This is that time of year in which we look forward to being with family and friends to celebrate the season. Holiday travel will certainly look different this year. With Thanksgiving just around the corner, the ongoing pandemic threatens to disrupt many of our longstanding holiday traditions. Interstate travel restrictions can present complex logistical hurdles while safety concerns have many of us thinking twice about spending time with our more vulnerable loved ones. Perhaps it may be the first time in many months that you may decide to take a much-needed getaway.
So where can we travel now? Mexico, Costa Rica, Western Ranches, and the Caribbean are just a few of the now open destinations with updated protocols.

2020 Holiday Travel
Costa Rica
Costa Rica translates to "Rich Coast" because of its incredibly diverse wildlife and culture. Dedicated to preserving its environment and national parks, Costa Rica is the perfect destination for nature lovers. When it comes to natural wonders, there is very little that Costa Rica doesn't offer visitors.
Travelers can experience spectacular volcanic activity in Arenal Volcano National Park, explore the unique cloud forests on the world famous Monteverde Sky Walk, dive the colorful coral reef of Cahuita National Park, or go white river rafting down the canyons of the Rio Toro river.
The country has the highest density of biodiversity on the planet and its wildlife is a big draw for visitors. Thousands of people flock to Tortuguero National Park every year to watch green sea turtles hatch and set out for the ocean.
Clear your mind, rediscover nature, and feed your curiosity in Costa Rica.
Mexico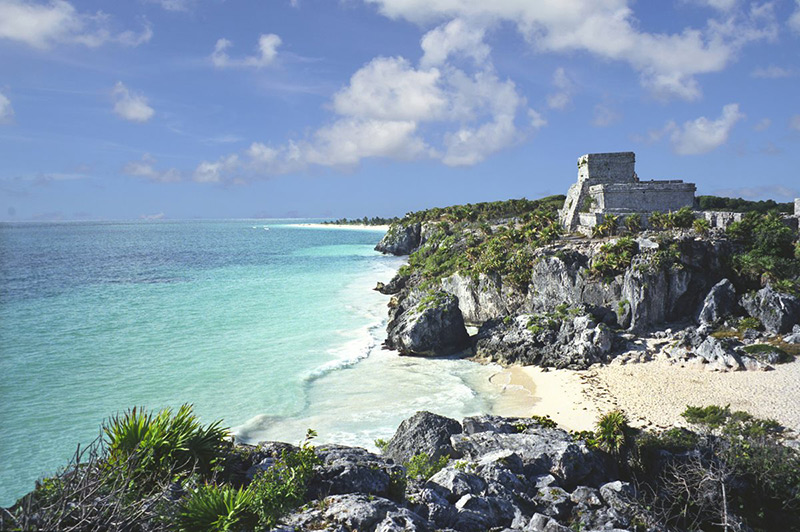 Climb to the top of an ancient pyramid, swim with whale sharks in the Pacific Ocean, or explore centuries-old colonial towns. From Frida mania and stylish city streets to culinary traditions and cultural treasures, 
Mexico
's largesse goes beyond palm-lined beaches and tony resorts.
Visit 
Los Cabos
, a city with two very different towns – Cabo, with its nightclubs and buzzy beaches and San Jose del Cabo, with its galleries and quiet courtyards. It is also home to some of the 
most beautiful luxury resorts
 in Mexico. If you're craving charm, fervent urbanity, and history, take a trip to 
Mexico City
. Travel to 
Cancún
, one of the Caribbean's most lauded and visited destinations, to find snow-hued sandy beaches, a rowdy urban entertainment district, and experiences for any occasion.
A diverse, big-hearted country that treats visitors like family, Mexico will welcome you with open arms.
Western Ranches
In lieu of traditional family get-togethers, many travelers are looking for alternative ways to spend the holiday. One of our travel partners, American Excursionist has some options. Here is an exciting list of ideas for couples and families small and large to take advantage of the Thanksgiving break in a safe and memorable way.
In Montana, experience the untamed Wild West adventure at 
320 Guest Ranc
h
's 110-year-old homestead, where history and down-home hospitality create a memorable stay. Situated in the heart of Wyoming's famed Platte River Valley, 
The Lodge & Spa at Brush Creek Ranch
 is an all-inclusive luxury ranch resort designed exclusively for the discerning traveler.
The Caribbean
The unique geography of the Caribbean has allowed many islands to keep their case counts in check as they have reopened to tourism. This Thanksgiving, the luxurious resort and villa partners in 
Turks and Caicos
,
St. Barths
,
St. Lucia
 and 
Jamaica
 entice guests with world-class beaches and quarantine-free stays.
From Anguilla and St. Martin to the Riviera Maya, retreat to the soothing rhythms of the tropics and discover the simple pleasures of paradise with 
Belmond Caribbean
. Belmond's collection includes one-of-a-kind hotels, villa, and excursions throughout the Caribbean and the rest of the world.
Happy reading! Happy dreaming!
What are your plans for the holiday season? Not sure? Let's connect to your interests and options. I will personally create a memorable experience to be cherished a lifetime!
Have a wonderful week!